ТЕЛЕФОНИЯ В ОФИС
Семейство IP АТС RingoLine - программная система компьютерной телефонии, которая будет работать на любом сервере и даже обычном компьютере. Это намного больше, чем просто офисная АТС, это интегрированная платформа для голосовых коммуникаций.
Мы предлагаем полнофункциональную пробную версию системы (ограниченную только количеством абонентов и внешних линий) для изучения, тестирования и принятия решения об использовании.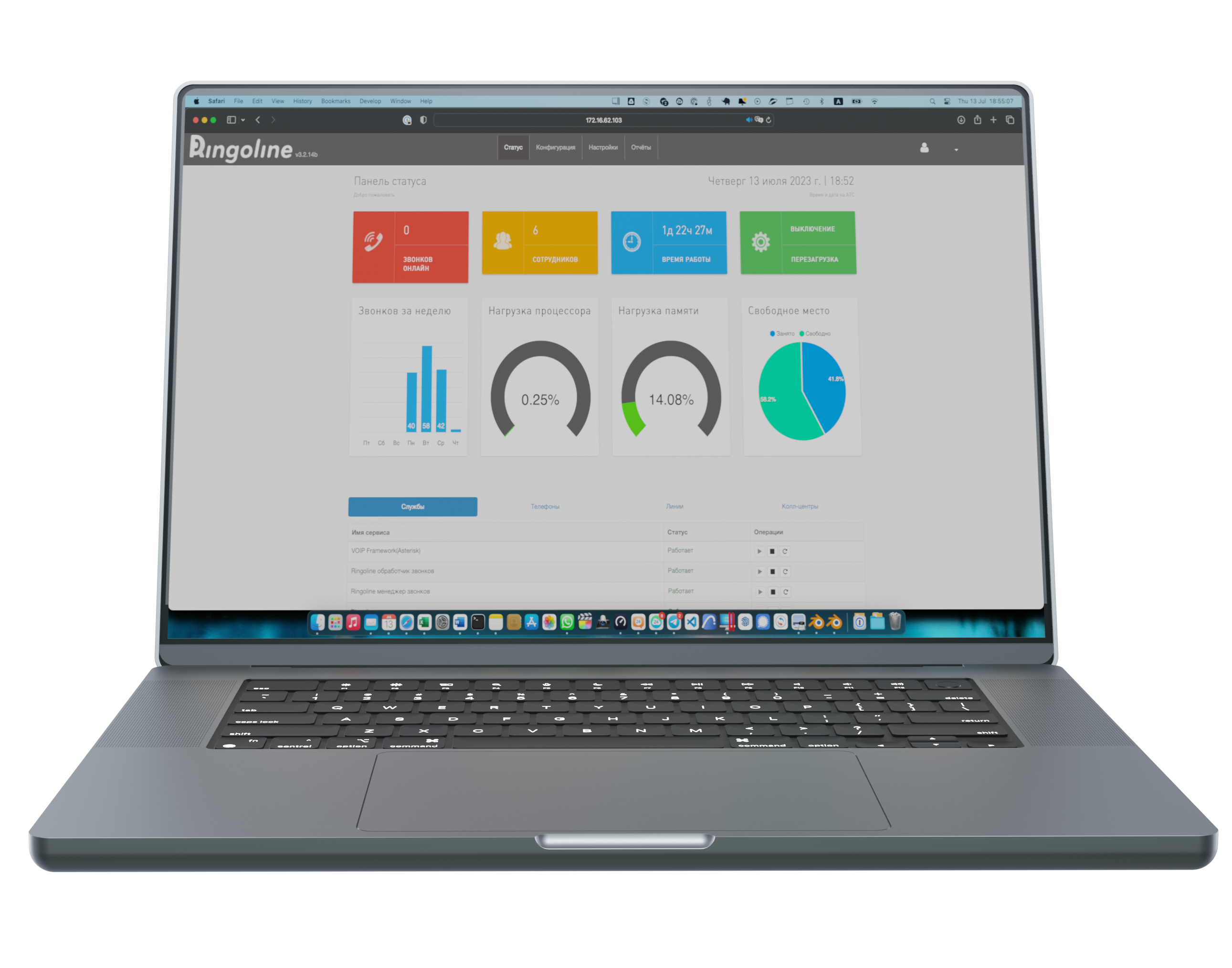 OFFICE TELEPHONY
The RingoLine IP PBX Family is an advanced software-based computer telephony system designed to operate seamlessly on any server, including regular computers. It goes far beyond a conventional office PBX, as it offers a fully integrated platform for voice communications.
We provide a fully functional trial version of the system, which is limited only in terms of the number of subscribers and external lines. This trial version allows you to explore, test, and make an informed decision regarding its implementation. 

ON THE MARKET SINCE 2014
RingoLine IP PBX has been on the market since 2014. During this time, it has undergone significant development and is successfully used by our clients who appreciate the system's functionality and convenience.
The software is developed by Russian programmers using public means and open-source development tools. The product is fully certified for use in the Russian Federation. It is included in the registry of domestic software of Russia's Ministry of Digital Development.
Simplicity and Convenience
No special knowledge is required for installation, setup, and maintenance. It features an intuitive interface.
The system operates a technical support center providing a "hotline"
24
hours a day,
7
days a week
Development and Modernization
It has extended capabilities for making changes and additions to functionality according to individual customer requirements.
Not Demanding on Computational Resources
The system doesn't have high hardware requirements and can be deployed on a wide range of server configurations.
What Benefits You Gain
Economic Benefit
You will save on both internal and external communication, thanks to the use of the IP protocol. All voice traffic will pass through the internet or within your office's local computing network. In addition, the system's extensive additional features can result in operational and capital savings, as it eliminates the need to purchase extra equipment and hire additional staff.
Customer Loyalty
Customer Loyalty You will be able to increase customer satisfaction, as the system allows you to take more calls, handle a larger volume of inquiries, and provide fast, high-quality customer service, thanks to improved response times and the implementation of new services. This leads to increased responsiveness, better overall business climate, and ultimately, a heightened level of loyalty from your clients and partners.
Expanded Analytical and Marketing Capabilities
Our system includes built-in functionalities for statistical processing of incoming calls, identifying problematic areas in your business's organizational structure. The system has a set of forecasting and analysis tools for your business activity, enabling effective marketing and advertising campaigns
Expansion of Market Share
Implementing IP telephony and office PBX will expand your business's service offerings. What previously seemed complex and hard to achieve will become possible. Additional functional and technological capabilities will open new avenues for promoting your goods and services, expanding your customer base.
High-Quality Communication
The use of the IP protocol and special codecs for audio signal encoding ensure high-quality communication, free from unnecessary noise and interference. As all audio information is transmitted and received digitally, there is no loss in signal quality compared to analog. Furthermore, the digital signal allows not only encrypted voice information but also plenty of auxiliary information to be transmitted, useful for subsequent processing and use.
Employee Productivity
Utilizing the built-in PBX features will make your office operations more efficient, both internally and with external users. Call forwarding, various incoming call distribution scenarios, automatic redial for missed calls, call center features, real-time monitoring, and analytics will boost your business productivity and create additional comfort for your employees and clients.
Telephony
Supports all popular telephony services and features: calls, call forwarding, call groups, holding, auto-redial, and so on.
---
Call Processing Center
Supports call processing centers with "smart" call distribution, operator work organization, reports, and statistics.

---
Management Tools
Flexible and easy-to-use administration tools that do not require special knowledge.

---
Compatibility
Compatible with server equipment and phones from various manufacturers that support the SIP protocol.

---
Analytics
Includes a comprehensive set of tools for collecting and processing statistics and generating reports.

---
Productivity
Offers a rich set of tools to enhance organizational efficiency.

---
Marketing
Includes a variety of features for marketing activity and sales support.

---
Integration
Includes tools for integration with CRM systems, facilitating and improving the quality of customer service.

---